Capital & Conflict – brought to you by Fortune & Freedom
---
HYDE PARK, LONDON – I have some bad news.
Actually, it's not that bad. It's just a change.
But it is something you should be aware of as a Capital & Conflict subscriber.
You'll have noticed over the past few weeks that you've been hearing more from my good friend and colleague Nickolai Hubble over at Fortune & Freedom.
Given the overlap in topics which the two eletters share, we've made the decision to merge Capital & Conflict with Fortune & Freedom under the latter's banner.
On Friday next week, this newsletter will formally become part of Fortune & Freedom.
Don't worry, you'll still be hearing from me – I'll be contributing to Fortune & Freedom, our sister publication Exponential Investor on occasion, and of course hosting our new weekly live broadcast, Southbank Live (we'll be broadcasting at noon today here – don't miss it!).
But a week from now, Capital & Conflict will not go by that name any more. It's not a decision we've made lightly, but we think the merge will allow us to best provide you, our readers, with more of the top-notch independent investment research we strive to provide.
This will mark quite a symbolic change for me. I used to read Capital & Conflict daily in my former job as a financial adviser. The theme of the letter and the great content that was written in it (back then by Dan Denning) were what drew me to Southbank Investment Research in the first place.
It has been a great honour to write these letters to you over the past few years, and I shall cherish some of the great times we've had together: the insightful and witty responses I've received, our little competitions for beer, and the wisdom and insight that comes with experiencing times past which a young(ish) man like myself simply doesn't have.
I can't tell you how much I appreciate you reading this letter, and I hope you'll join me for the next chapter. If you want to jump the gun ahead of the merge, you can sign up to Fortune & Freedom here, or just wait until the merger next week.
Of course, if you're not happy with the change, feel free to unsubscribe using the link at the bottom of this email.
If Fortune & Freedom or Exponential Investor aren't your cup of tea but you still want to stay in touch, you're welcome to follow me on Twitter, or subscribe to our YouTube channel where I shall be hosting Southbank Live.
I also run an informal weekly podcast with Sam Volkering called Booze, Booms & Busts, where we discuss markets and rate good beer – it's a little bit of fun to end the week on.
In the meantime, I'll be going live with Nickolai Hubble at noon today, where he'll be making the case for why more lockdowns are coming, and how investors can protect their portfolios from the consequences. I hope you've got the time to tune in: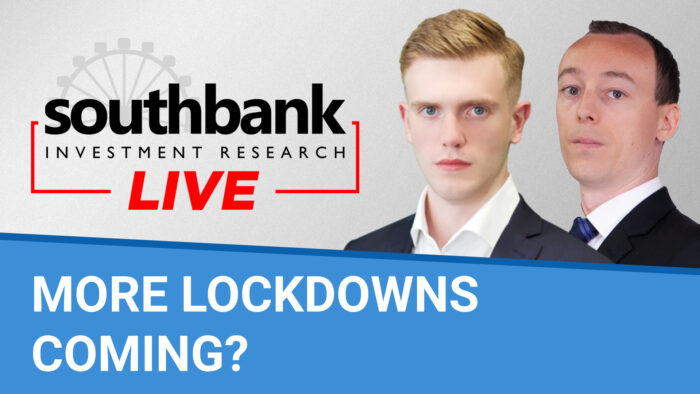 Wishing you a good weekend,

Boaz Shoshan
Editor, Capital & Conflict
Category: Market updates